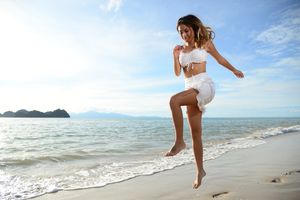 biography
Kat (Katrina Cheng Binti Roshan) is a 19-year-old singer-songwriter born in Kuala Lumpur to mixed parentage with a Malay father and Chinese mother.  
Musically inclined since young, she was discovered to have the perfect pitch by her violin teacher. She started piano lessons at age 5 with her mother's school friend Serena Yee, and later, picked up the guitar from her former Maths teacher in school who has been her mentor and now manager as she has developed her musical talent and early career.   
From a young age, Kat was always busy composing her own music. She was introduced to Chossy Pratama, an esteemed music producer and composer from Jakarta culminating in Kat recording and releasing his song, 'Rasa', in Indonesia on 8th April 2020.  
Kat released her first single 'You' on 28th May 2020 going on to release a further 3 singles that year which were featured on HitzFM. Kat received 'Homegrown Artist of the Month' from HitzFM for October 2020.   
Early 2021 saw the release of 'Burn³' from her soon-to-be-released EP 'My Demons'.   
Kat's debut EP, 'My Demons' was released on May 28th, 2021. It saw a journey back into country-pop territory by Kat from the self-imposed isolation of the lockdowns in 2020 which gave space for visceral reflection. The 5 tracks on the EP all told a tale of the myriad of personal emotions and life experiences reflected upon during that time.   
September 2021 saw the release of 'Oasis' - a Disney-style track inspired by the story 'The Alchemist' and recorded with a 40-piece live orchestra from Budapest with a music video filmed on the sand dunes of Malacca in Malaysia.   
Kat relocated to California at this same time for a year to complete her high school at Idyllwild Arts Academy - America's number 1 arts school - where she continued to hone her songwriting and performance skills alongside her academics. She continued to release multiple tracks across this span including 'Provocative', the first track from the upcoming album 'Attachments' due for release in mid-2023.   
Kat's latest release was 'London' released on 8th December. This latest song written and performed by Kat is a solo vocal electro-pop track produced by Billboard #1 producer and songwriter Richard Harris in California. It was written during the pandemic lockdown and is about reminiscing on happier times and on looking forward to returning to her 2nd home. 'London' is available now on all leading DSPs. 
Kat recently recorded two new songs with renowned South Korean producer Jeongwook 'James' Park called 'One Day From Today' with one of them also in collaboration with Korean rapper Su Jin called 'Going Crazy Wild' both due for release this summer. 
Having graduated with straight A grades in the US, Kat is currently based in London where she attends University College London whilst continuing to write and perform her music.